The Ocean State's Trusted Voice in Real Estate®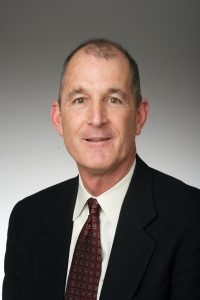 Congratulations to Jay Readyhough –
KWAOR's 2020 REALTOR® HERO
The Kent Washington Association of REALTORS® is pleased to announce the selection of James "Jay" Readyhough of Mott & Chace Sotheby's International Realty
for the KWAOR 2020 REALTOR® Hero Award.
The KWAOR REALTOR® Hero Award was established in 2018 to recognize Realtor members for their volunteer service on behalf of others.
Recipients are nominated from a total membership of over 1900 REALTORS® and selected by a committee of their peers for recognition of
"a KWAOR Realtor member who extends their arms beyond their job into their community and is making a difference."
Jay's professional bio says much about his commitment to community.
He bought Bay Realty in 1981 when he was 27 years old. He had one agent.
He had big dreams and a good idea of how to make them happen.
Jay believed that good things would happen if he surrounded himself with good people.
He reasoned that the way to guarantee long-term success was to hire people in it for the long-term.
He decided that the best way to build a business that would serve the community was to hire people that were truly dedicated to that community. He was right.
In 2019 Bay Realty was purchased by Mott & Chase Sotheby's International, a leading Rhode Island firm representing some of the most distinctive properties in Southern New England.
Jay, his daughter Allie, and many of Bay Realty's other REALTORS® are now valued members of the Mott & Chace team.
The KWAOR REALTOR Hero Award Committee dug deeper and learned more about Jay's personal commitment to community.
Jay was nominated by an anonymous peer for his commitment to Meeting Street.
Once nominated, a Committee member interviews each nominee.  After interviews are documented and reviewed by the entire Committee, the award recipient is selected.
Jay's interview revealed his deep passion for Meeting Street, a non-profit organization in Providence, RI.
Forty-one years ago, Jay began an annual fundraising initiative for the school that has raised $185,378 to date.
Those funds have gone directly to helping kids with a wide range of disabilities, as well as providing services and support to their families.
Jay is very passionate about his work with Meeting Street. He forwarded the Committee a letter from the school regarding his efforts that was nothing short of inspiring.
Jay says he is very proud of how his peer REALTORS® have answered the call to support this worthy cause.
This honor was formally recognized and celebrated at the Association's Annual Meeting and Installation on October 15th at Safehouse Restaurant in East Greenwich, and broadcast live via YouTube.
Education
KWAOR offers a wide variety of classes in our classroom at 2240 South County Trail, in partnership with the Rhode Island Association of REALTORS®(RIAR) and the Rhode Island School of Real Estate. Enrollment is limited and registration is required.
Click below for more information, or call us at (401) 885-9300.
View All RIAR Classes
View All RI School of RE Classes
Caravan Tours
The Kent Washington Association of REALTORS® offers caravan tours for its members to view newly listed properties for sale in a variety of towns located in the Kent and Washington Counties.
View Available Tours
KWAOR Calendar
View all scheduled dates for KWAOR governance and committee meetings, Association events and classes.
View Calendar
KWAOR Events

November 19th – 12 Noon
Lunch & Learn!
Details Coming Soon
Business Partners & Affiliate Members
Our 3 Star Sponsors
Our 2 Star Sponsor
Working Together
KWAOR Foundation Inc.
KWAOR Foundation offers financial support to our community and organizations working to improve the quality of life in Rhode Island.
Our mission is to improve lives and strengthen our community.  The Foundation will work with charities that promote a helping hand attitude, and, along with our Business Partners promote the needs of our community and membership.
The Foundation will support and strengthen the community through charitable donations, volunteer work, education and charitable housing initiatives.
Learn More About the Foundation