Wishing you and yours a happy, healthy, and abundant 2022! If you haven't completed Code of Ethics training for cycle 6 please contact our office (401) 885-9300.
The Ocean State's Trusted Voice in Real Estate®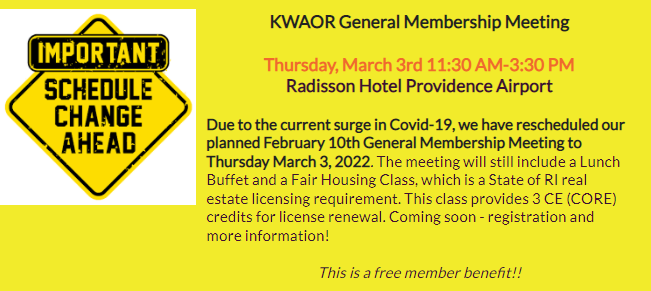 Have you completed your Code of Ethics requirement for NAR? 
The requirement for REALTORS® to complete Code of Ethics training is every three years. The current Cycle 6 deadline PASSED December 31, 2021. REALTORS® are required to complete ethics training of not less than 2 hours, 30 minutes of instructional time. The training must meet specific learning objectives and criteria established by the National Association of REALTORS®.
REALTORS® who have failed to complete training have had their REALTOR® Membership SUSPENSED as of January 1, 2022.  A REALTOR® who is suspended for not meeting the REALTORS® Ethics Training Requirement will have all the rights, privileges, and services they are entitled to suspended until the training requirement is satisfied. If the requirement is not completed by March 1, 2022, your membership will TERMINATE. If your membership is terminated, you will be required to reapply and will be charged an application fee of $100.00.
Code of Ethics Change
In November 2019 the National Association of REALTORS® Board of Directors approved a change to the Code of Ethics (COE) training requirement, extending it from every two years to every three years.
Learn More
KWAOR Calendar
View all scheduled dates for KWAOR governance and committee meetings, Association events and classes.
View Calendar
Business Partners & Affiliate Members
Working Together
KWAOR Foundation Inc.
KWAOR Foundation offers financial support to our community and organizations working to improve the quality of life in Rhode Island.
Our mission is to improve lives and strengthen our community.  The Foundation will work with charities that promote a helping hand attitude, and, along with our Business Partners promote the needs of our community and membership.
The Foundation will support and strengthen the community through charitable donations, volunteer work, education and charitable housing initiatives.
Learn More About the Foundation