Organization
Kent Washington Association of REALTORS®, Inc., a Rhode Island non-profit corporation, established an affiliate KWAOR Foundation, Inc., a Rhode Island non-profit corporation and exempt from tax under section 501(a) of the Internal Revenue Code (the "Code") by reason of meeting the requirement of 501(c)(3) of the Code.
Purpose
The Foundation, Inc.  is organized exclusively for charitable and educational purposes, including the making of distributions to organizations that qualify as exempt organizations under Section 501 (c)(3) of the Code and the raising and receiving of funds to help create more productive and enriched communities by offering financial and other forms of assistance for supporting the enhancement of quality of life, and to assist individuals or entities affected by a personal or natural disaster.  The Foundation has not been formed for the making of any profit, or personal financial gain.  The Foundation shall not endorse, contribute to, work for, or otherwise support (or oppose) a candidate for public office.  The Foundation is organized exclusively  for  purposes consistent with  Section 501(c)(3) of the Code.
News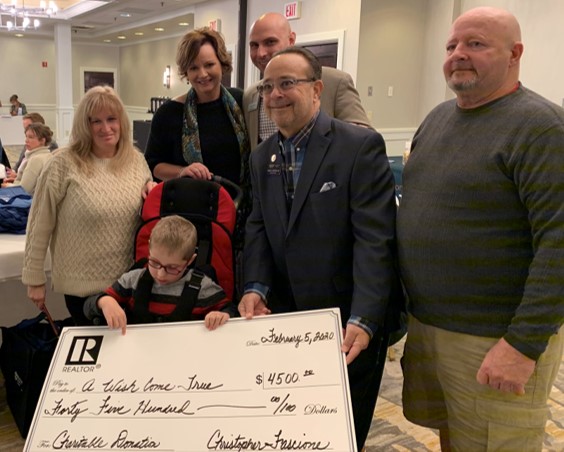 The KWAOR Foundation presented a $4500 donation to A Wish Come True at the Kent Washington Association of REALTORS® General Membership Meeting on February 5, 2020. One hundred forty KWAOR Realtor® Members were present at the Radisson Airport Hotel Providence when KWAOR Foundation President Christopher Fascione presented the gift to Make A Wish Director Mary-Kate O'Leary.  The gift will help fund an April trip to DisneyWorld and Universal Studios for the family of Joseph Kroll, whose wish was for "a trip to DisneyWorld". Funds for the KWAOR Foundation donation were raised from local Realtors® and business partners who attending the Association's annual holiday party, which benefits a selected charity each year.
Learn More Here
Mission
KWAOR Foundation offers financial support to our community and organizations working to improve the quality of life in Rhode Island.
Our mission is to improve lives and strengthen our community.  The Foundation will work with charities that promote a helping hand attitude, and, along with our Business Partners promote the needs of our community and membership.  The Foundation will support and strengthen the community through charitable donations, volunteer work, education and charitable housing initiatives.
Board of Directors
Officers
Chris Fascione, President 2020
BHHS Commonwealth Real Estate
461 Main Street
East Greenwich, RI  02818
---
Cecelia O'Brien, Vice President 2020-2021
Randall Realtors
4009 Old Post Road
Charlestown, RI  02813
---
Patricia Lenihan, Secretary/Treasurer 2020-2021
Coldwell Banker Residential Brokerage
527 Main Road
East Greenwich, RI  02818
Directors
Peter Izzi, Director 2020-2022
HomeSmart Professionals
501 Centerville Road
Warwick, RI 02886
---
Mary Shekarchi, Director 2020-2022
Showomet Realty Company
33 College Hill Road
Warwick, RI 02886