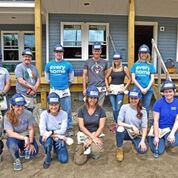 KWAOR and South County Habitat for Humanity – JOIN OUR TEAM BUILD on June 25th!!
KWAOR's longtime support of South County Habitat for Humanity has included two decades of providing volunteers for builds, and annual financial support via golf outings and other fundraisers.  Members interested in attending, sponsoring or assisting with our August 19th annual fundraiser should contact Carol Drewes.
Our first Team Build for 2021 has been scheduled for June 25th.  KWAOR volunteers will work from 8:30 AM to 2:30 PM at the Habitat Warehouse.  We currently have four volunteers signed up; ELEVEN MORE VOLUNTEERS ARE NEEDED!  All volunteers must register IN ADVANCE for the event by Monday, June 21–THIS COMING MONDAY:  https://form.jotform.com/211576008521146
Please register ASAP through the above link and sign the waivers (included in the link). Registration is required to enable Habitat to schedule enough supervisors to keep everyone safe and occupied.  
Our team will be constructing walls which will be placed at the site at a later date, once the site prep is completed. The exact address for the warehouse will be provided when you register (see registration info above). KWAOR will provide coffee and muffins in the morning and a light lunch (sandwich, beverage, chips/fruit) in the afternoon.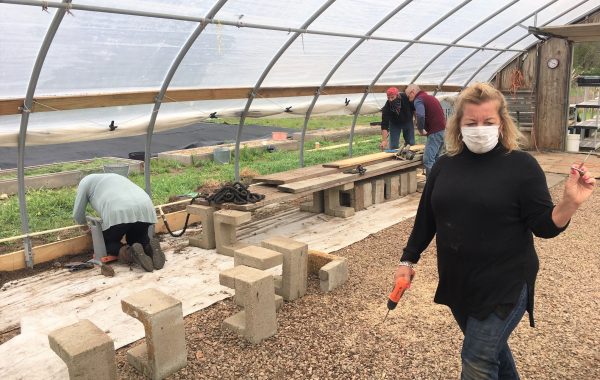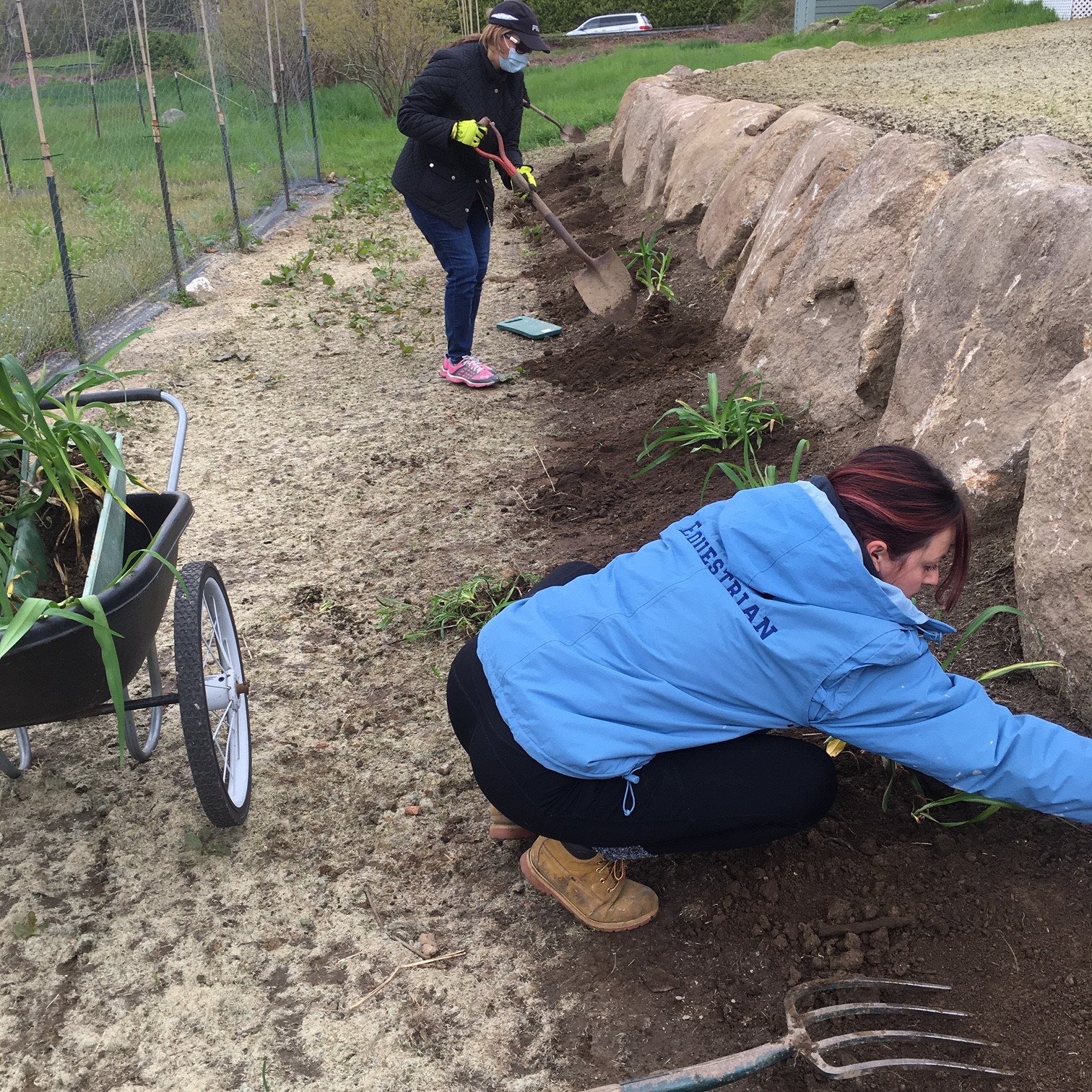 Kiki's Garden Prepares for the 2021 Season.
On Saturday May 8, 2021, volunteer KWAOR planters and builders assisted 2019 REALTOR Heroes Jeff and Evelyn Weller with plantings for their sunflower stand entryway and setting up the greenhouse. They grow and sell sunflowers each year to raise funds for their Aspire Higher Scholarship program and to fund arts programs in Rhode Island, to honor the memory of their daughter Krista Weller Burns.
Kudos to AM Crew Karen and Chris Bouchard, Joanne Congilio, Deb Giannini, Stacy Lashua, Tanya Phillips, and Tricia Shea, and PM Crew Sonia Sharma, Dianne Edson and Kelly Moran.  More photos in the carousel below.
We're planning another workday later this spring. Advance registration required to ensure safety and best use of volunteer time.  Contact Carol Drewes. 
You can also help out by purchasing sunflowers (available in August and September) or making a gift.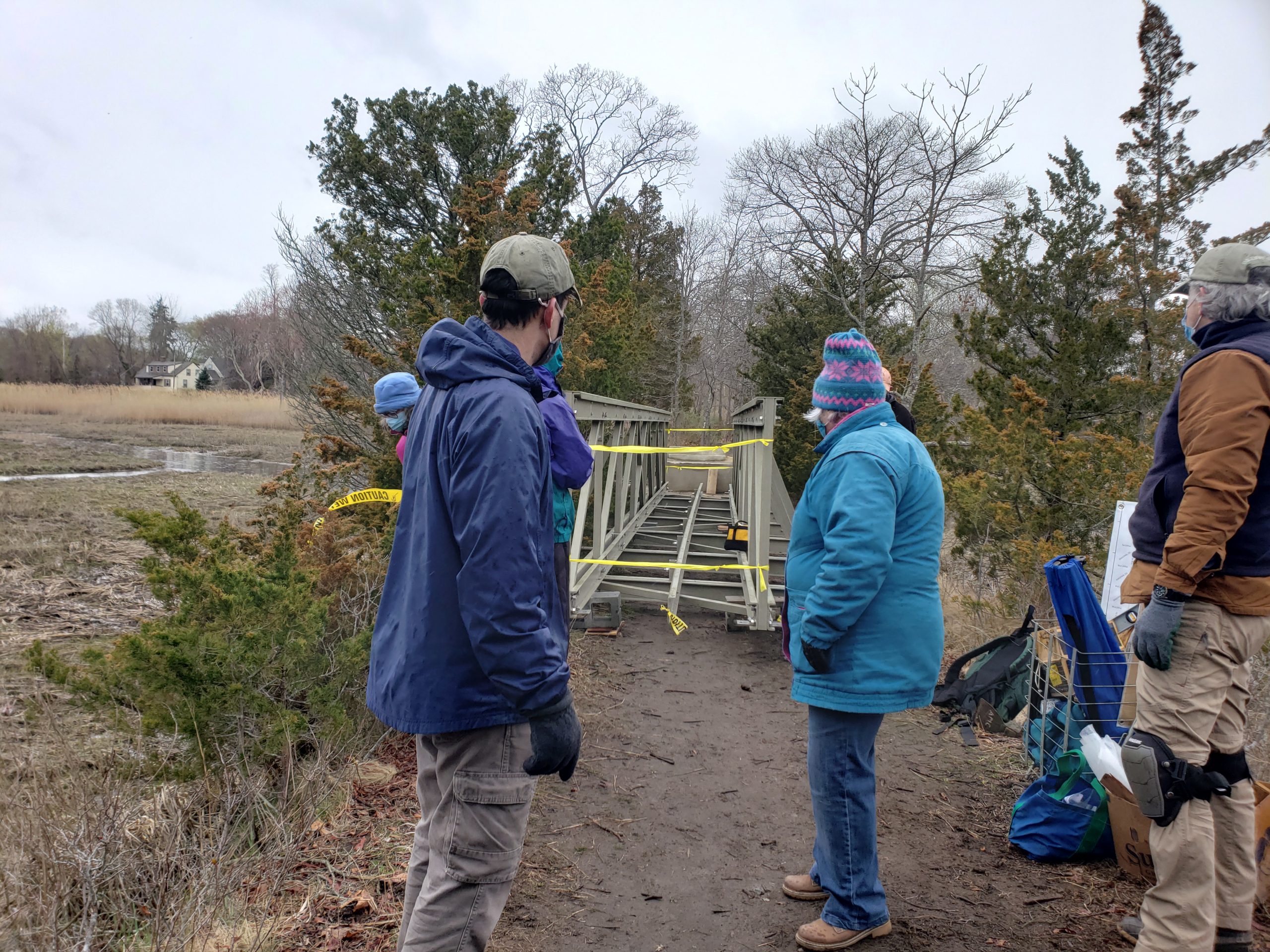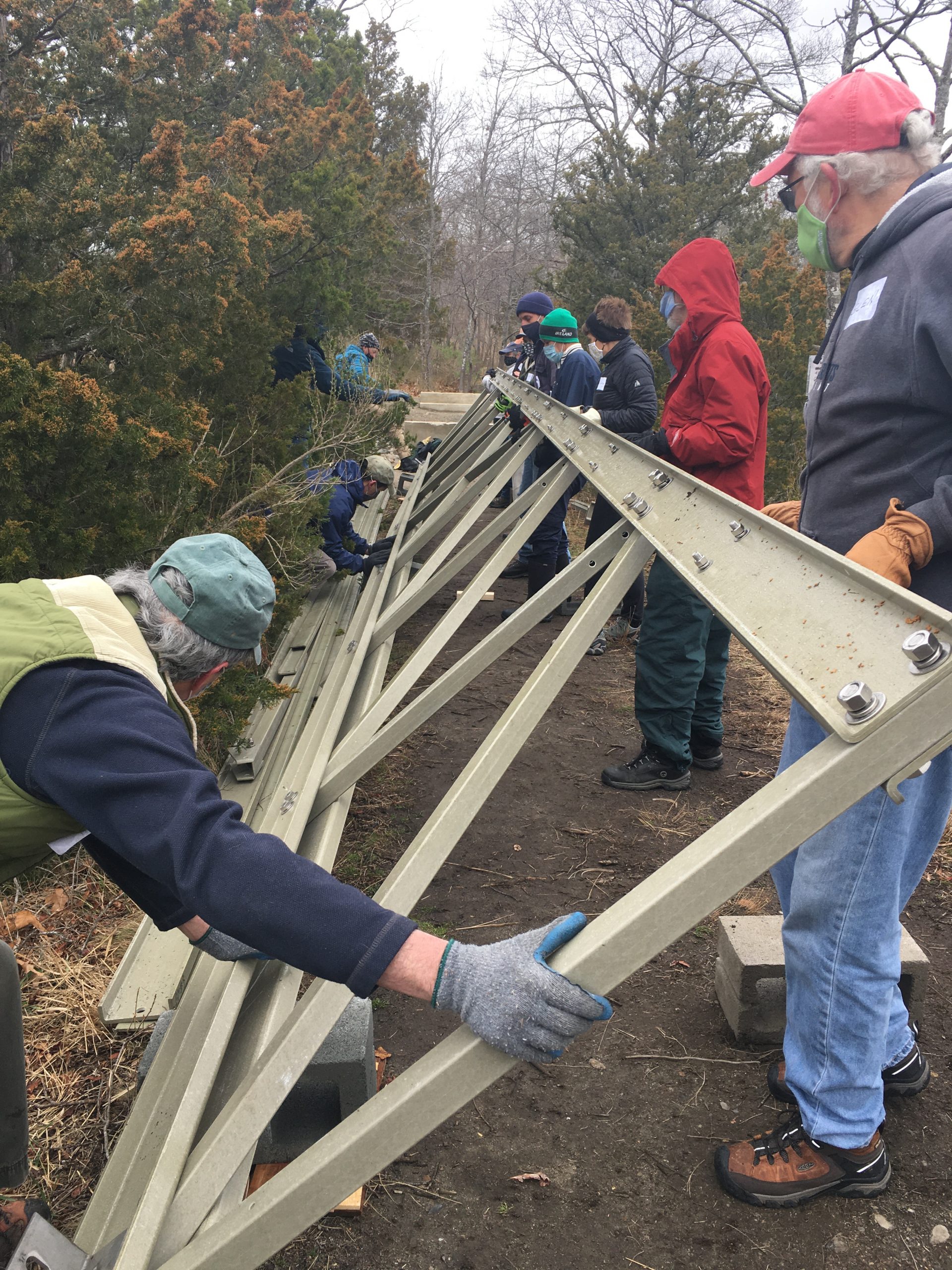 KWAOR Partners with Land Conservation Trust of North Kingstown to fund and build new pedestrian bridge over Mill Cove.
KWAOR CEO Linda Arcouette and member of the Community Outreach Committee have worked with the Land Conservation Trust to partially fund (via a Smart Growth grant from the National Association of REALTORS®) and help to construct a new footbridge linking the Wickford to Wilson Park footpath.
Volunteer builders helped out on Saturday April 17 to assemble the footbridge frame, and on May 19 another group of KWAOR volunteers staffed path-clearing work. 
Now that the bridge and footpath are complete, check it out.  Access at Wilson Park in N. Kingstown!  Bring a small bag for trash collection and record your volunteer hour with the NAR REALTORS Are Good Neighbors project.  Recording hours puts you in the running to win $1000 for your favorite non-profit!  
Photos
Left: Bridge Construction   Right: Trail Clearers (L to R) Greg Eccleston, Shannon Krasnowiecki and Chas Adams enjoy the view from the new bridge!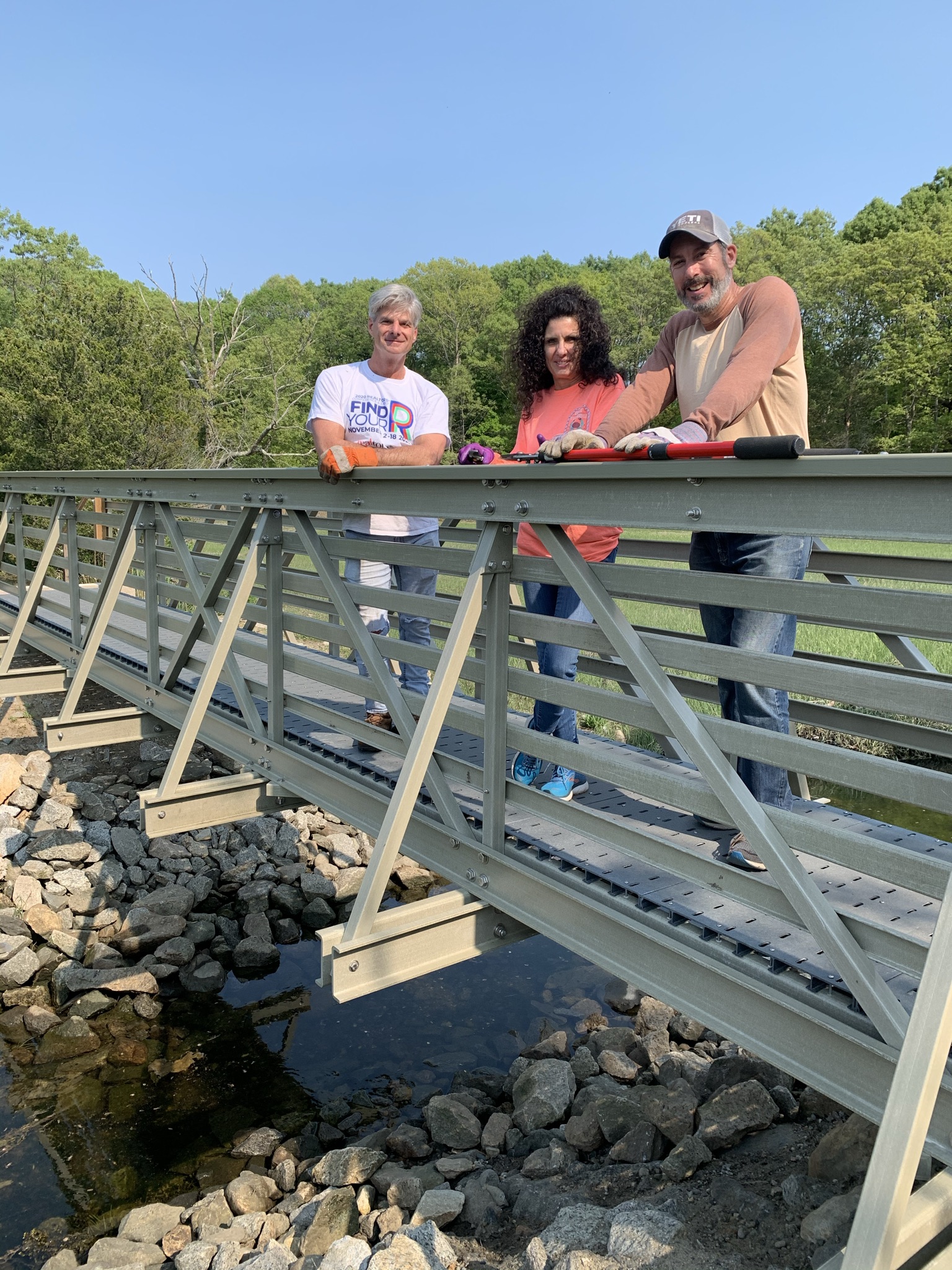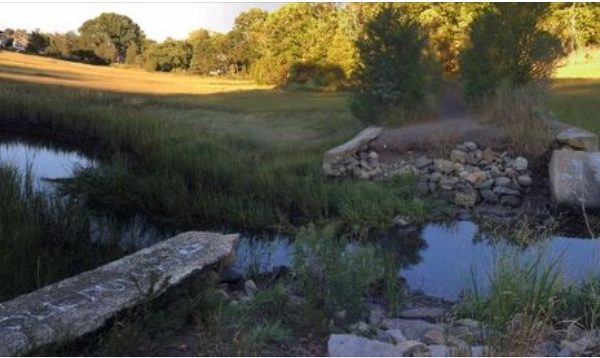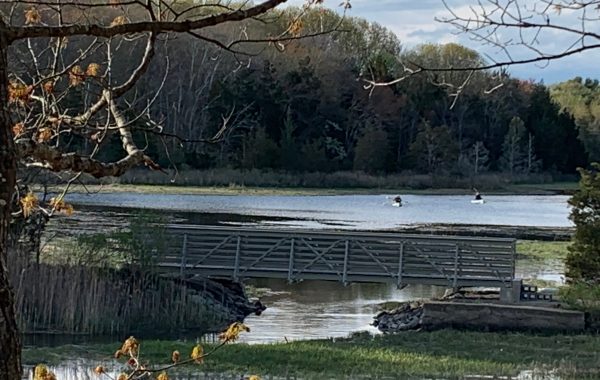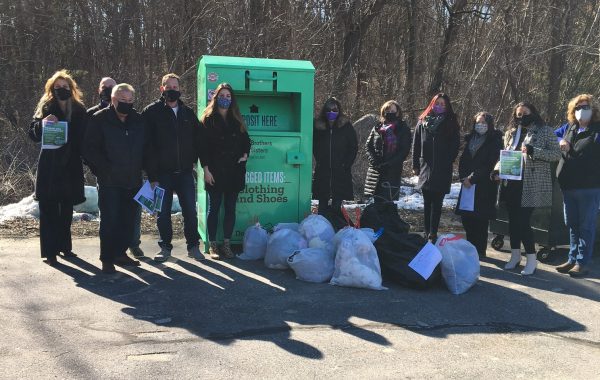 WE'RE PARTNERING WITH Big Brothers Big Sisters of RI to keep clothing, linens, shoes and more out of landfills.
YOU can help today.  Click the button below for a complete list of acceptable donations.  Fill a bag, and drop it off! 
Our collection bin is located to the rear of the KWAOR office building at 2240 South County Trail, and is available 24/7.  Please bag all donations and use the provided tags to ensure KWAOR receives proper credit for collection.  For each pound collected, KWAOR receives payment which will be used for future projects approved for funding from the KWOAR Foundation. 
Please share this information and our flyer with your colleagues and clients who are clearing out closets!!  The bin is meant to be used by all.
Click Here for BigsRI Bin Flyer